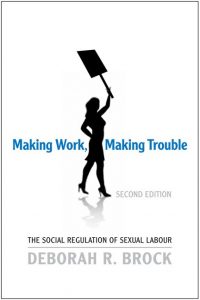 Deborah Brock (Author)
University of Toronto Press, Scholarly Publishing Division; 2 edition (Sept. 26 2009)
Thoroughly updated to include events that have occurred in the decade since it was originally published, this second edition of Making Work, Making Trouble re-establishes this work as the pre-eminent study of prostitution in Canada. Detailing the various forces that have presented prostitution as a social problem, Deborah R. Brock examines anti-prostitution campaigns, urban development, new policing strategies, and the responses of the media, the courts, and governments, as well as feminist, rights, and residents' organizations.
Paying particular attention to rights and the means of economic survival within global and local realities, this edition includes new material on recent discourse on sex trafficking, migrant sex work, ex-worker rights organizing, and considers the potential impact of the Robert Pickton trial on the practice of sex work. A comprehensive overview of the crucial debates on prostitution, Making Work, Making Trouble is a welcome addition to twenty-first century sociology and criminology.